upcoming events

2019 FIESTA BLUES HERITAGE SERIES - ALL-STAR SAN ANTONIO SHOW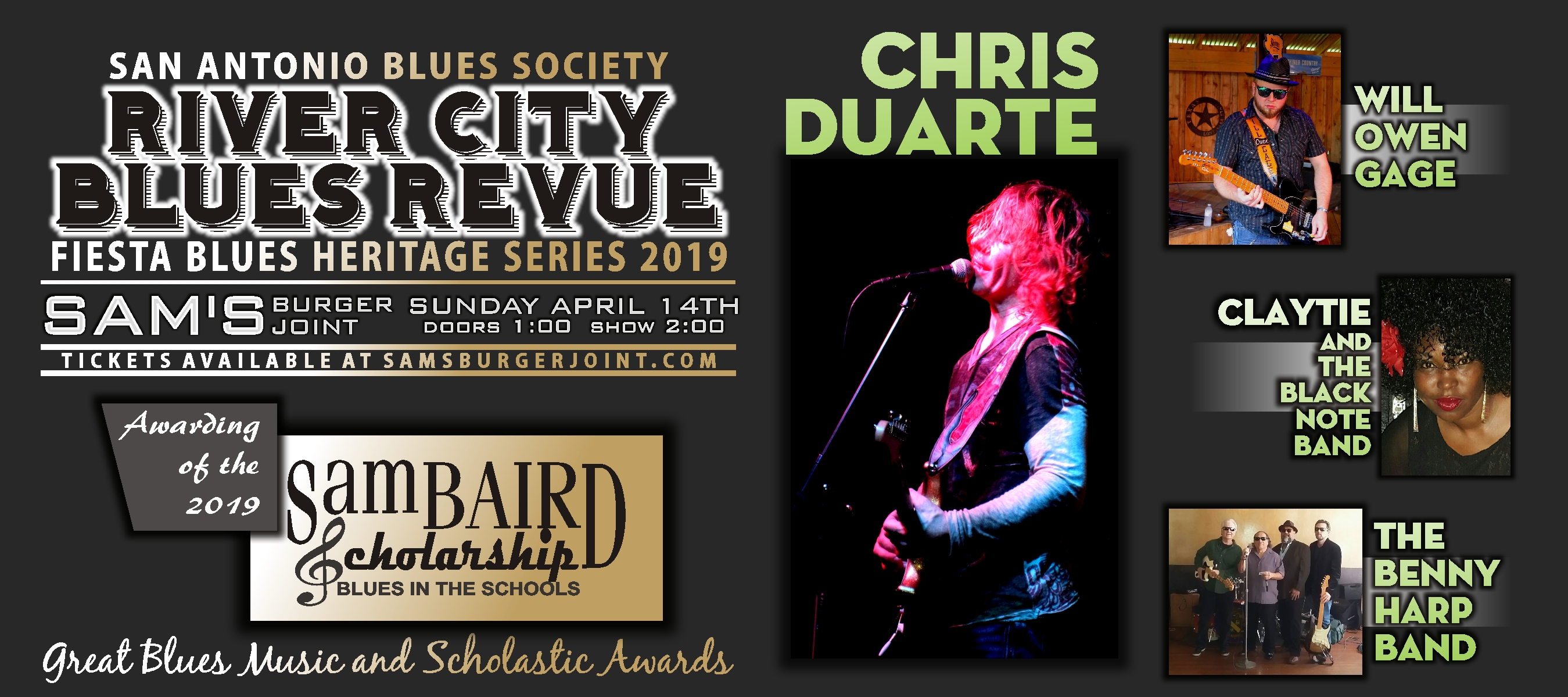 Our annual blues festival is set and we are proud to present our 2019 Fiesta Blues Heritage Series event: RIVER CITY BLUES REVUE. The show is April 14th at Sam's Burger Joint. It is an all-afternoon event with 4 bands and the presentation of the Sam Baird Scholarships. Doors will open at 1:00 with downbeat at 2:00. The Benny Harp Band will open the show and The Chris Duarte Group will be the headliner. In between Benny and Chris we will feature the torchy blues of Claytie Bonds and the rocking blues of Will Owen-Gage. Seats are still available and on sale.
Click here for information and tickets


MEMBERSHIP DRIVE - JOIN THE SAN ANTONIO BLUES SOCIETY OR RENEW YOUR CURRENT MEMBERSHIP AND GET A FREE TICKET

Join the San Antonio Blues Society or renew with us and receive a free ticket(s) to the Fiesta Blues Heritage Series: River City Blues Revue show! This is a great way to not only get involved with our organization but to also get free admission to a SUPERB BLUES SHOW! By taking advantage of this special offer you are helping us with our final push to fill the Scholarship fund. Individual Memberships are $20 and Family memberships are $30 per year. Corporate Memberships are $125 annually. Lifetime Memberships are also available. You can take advantage of this offer at the following upcoming SABS shows:


Wed 4/3 Rochelle and The Sidewinders at Sam's Burger Joint
Wed 4/5 Ruben V at Sam's Burger Joint
Sun 4/7 SABS Sunday Jam at The Cove hosted by Jimmy Spacek
Sat 4/13 Albert Cummings at Sam's Burger Joint
The San Antonio Blues Society is proud to be part of the live music scene in San Antonio. We have two major shows annually that we produce, the Fiesta Blues Heritage Series and The Robert Johnson SA Sessions. In addition, each month we hold our open blues jam. And each month you will find SABS at various shows at Member Venues featuring Member Artists.

UPCOMING JAMS AND CO-PRO SHOWS
ROCHELLE AND THE SIDEWINDERS

Apr 3

SAM'S BURGER JOINT
info/tickets
RUBEN V

Apr 5

SAM'S BURGER JOINT
info/tickets
SABS SUNDAY AFTERNOON BLUES JAM
hosted by
JIMMY SPACEK
Apr 7
THE COVE
ALBERT CUMMINGS

Apr 13

SAM'S BURGER JOINT
info/tickets
RIVER CITY BLUES REVUE
SAN ANTONIO BLUES SOCIETY
FIESTA BLUES HERITAGE SERIES
CHRIS DUARTE
WILL OWEN-GAGE
CLAYTIE BONDS AND THE BLACK NOTE BAND
BENNY HARP BAND
Apr 13

SAM'S BURGER JOINT
info/tickets
ELIJAH ZANE

Apr 20

SAM'S BURGER JOINT
info/tickets
SCOTT H. BIRAM | THE SIDESHOW TRAGEDY

Apr 26

SAM'S BURGER JOINT
info/tickets
SABS SUNDAY AFTERNOON BLUES JAM
May 5
THE COVE
more about sabs events


Fiesta Blues Heritage Series
An eclectic presentation of blues and blues influenced music, this event funds various SABS projects, including " Blues in the Schools " and the " Sam Baird Scholarship " fund. It is the perfect combination of San Antonio ' s beautiful spring climate and the soulful sounds passed down through the generations. Besides a show full of music there is also the awarding of the Sam Baird Scholarships. This all day celebration of music and scholastic recognition is held in April.

Robert Johnson SA Sessions
This event pays tribute to one of the founding fathers of blues music. We celebrate the recordings Robert Johnson did here in San Antonio back in 1936 at the historical Sheraton-Gunter Hotel, including " Sweet Home Chicago " , " Cross Road Blues " , and " Ramblin ' on My Mind " . The festival is an annual SABS November event.

Sunday Afternoon Blues Jam
Our long standing tradition of an open Blues Jam in San Antonio continues to attract many great Blues players from the area, along with lovers of the Blues! The Jam happens the first Sunday of every month at The Cove. We draw from our great Member Artists to host each Jam, opening and closing the show. In between we invite Blues players to come up and join in on the fun.

SABS CoProductions and other events
Many of our sponsors are actual music venues where many great national, regional, and local groups perform their Blues. At many of these shows SABS is on-site to let everyone know more about us and what we do. Shows that we co-produce will have us there with our line of Blues merchandise. We email weekly electronic calendars during the month to let everyone know who ' s playing where.